Update: Because of the restrictions caused by the Covid-19 Pandemic many of the events listed below have been canceled or deferred.
As the lockdown eases, it will become clearer ast to what events have survived. Because it is likely the Social Distancing will continue for the foreseeable future and because the size of gatherings is likely to continue to be limited, we can expect that the format of any of the events that do go ahead will be radically changed.
Please check before deciding to go to any event.
Follow the official advice and STAY SAFE.
What's on in Cork in 2020? Here we list our selection of Cork events in 2020. We will be adding to the list throughout the year as information becomes available.
Has any county in Ireland more festivals than County Cork? Already we have listed 37 festivals in Cork in 2020 – and that's not all!
February
15th February: Neil Delamere 'End of Watch' at Cork Opera House.
17th -20th February: A Holy Show at The Everyman
22nd February – 2nd March 2020: Cork French Film Festival http://www.corkfrenchfilmfestival.com/
25th February: Hansel & Gretel (Opera) at Everyman Theatre
27th -29th February: The Parish (comedy) at Cork Arts Theatre
March
8th March: International Women's Day Festival at Trident Hotel Kinsale
12th – 16th March: Kanturk Arts Festival 2020
14th – 17th March : St. Patrick's Day Festival 2020
April
2nd – 30th April : Cork Photo Festival 2020 http://corkphoto.com/festival/
10th – 12th April: Ballydehob Traditional Music Festival 2020 http://www.ballydehobtradfestival.com/
17th – 19th April: Spirit of The City Festival 2020 https://spiritofthecityfestival.ie/
18th – 20th April: Racing Home For Easter Festival at Mallow Racecourse
21st – 25th April: Cork World Book Festival 2020
29th April – 3rd May: Cork International Choral Festival 2020
May
1st – 4th May: Ballydehob Jazz Festival 2020 http://www.ballydehobjazzfestival.org/
7th – 10th May: Baltimore Fiddle Fair 2020
10th May: GAA Hurling Championship Cork v Limerick at Pairc Ui Chaoimh
8th – 9th May: Race & Taste Festival at Cork Racecourse Mallow
8th – 10th May: Feile an tSamhraidh Midleton 2020
20th – 24th May 2020: The Fastnet Film Festival in Schull village is a showcase for Irish and International short films.
24th May: GAA Football Championship Cork v Kerry at Pairc Ui Chaoimh
29th – 31st May: Soul in the City http://soulinthecitycork.ie/
29th – 31st May: Seafood & Shanty Ballycotton 2020
31st May 2020: Cork City Marathon 2020
June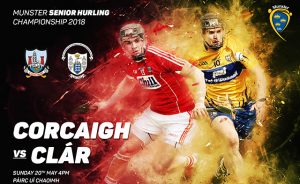 1st – 9th Jun: Cork Harbour Festival 2020
7th June: GAA Hurling Championship Cork v Clare at Pairc Ui Chaoimh
12th – 21st Jun: Cork Midsummer Festival 2020
20th – 21st Jun: Shandon Street Festival & Food Fair
24th – 29th June: Live at The Marquee with Cat Sevens, Diana Ros,s Christy Moore, Crowded House. https://www.aikenpromotions.com/festivals.html
26th June – 5th July: West Cork Chamber Music Festival 2020 in Bantry. https://www.westcorkmusic.ie/
July
4th – 7th July: South of Ireland Band Championships in Clonakilty
10th – 17th July: West Cork Literary Festival 2020 http://www.westcorkliteraryfestival.ie/
10th – 12th July 2020: Queen of the Sea Festival 2020 in Youghal http://www.qots.ie/
16th – 19th July: Kinsale Arts Weekend https://www.kinsaleartsweekend.com/
22nd – 26th July 2020: Mallow Arts Festival https://mallowartsfestival.com/
26th July – 3rd August: Cork Puppetry Festival http://www.corkpuppetryfestival.com/
26th – 28th July 2020: Cork Pride Festival http://www.corkpride.com/
August
30th July – 7th August: Kinsale Regatta Festival 2020
2nd August: Youghal Medieval Festival 2020
19th – 23rd August: Masters of Tradition – traditional music in Bantry
28th – 29th August: Westlife at Páirc Uí Chaoimh
September
4th – 13th September: A Taste of West Cork Food Festival 2020
14th – 20th September: Clonakilty International Guitar Festival 2020 http://www.clonguitarfest.com/
17th – 20th September: Macroom Food Festival http://www.macroomfoodfestival.com/
18th – 20th September: Cork Oyster Festival 2020 https://www.corkoysterfestival.com/
23rd – 26th September: Cork International Short Story Festival 2020
October
1st – 4th October: Cork Folk Festival 2020 http://www.corkfolkfestival.com/
8th – 11th October 2020: Cork Early Music Festival
22nd – 26th October: Guinness Cork Jazz Festival 2020 https://www.guinnessjazzfestival.com
Check back here for updates to what's on in Cork in 2020.